A Copper brazed plate heat exchanger can be used in a number of applications. They are available in a variety of sizes and with a number of different welded-in fitting options. A copper brazed heat exchanger transfers heat between two different materials when their temperature differences are significant enough. The rate of heat transfer depends on the relative heat conductivity of the two materials, and the number of plates is an important consideration.
The amount of corrosion and the speed of corrosion are two of the most common reasons for exchanger failure. To ensure long-term performance, use fluids with reasonable pH levels. Hard water is particularly corrosive and must be avoided. Distilled water is a better choice as it doesn't have chlorides that can quickly corrode an exchanger. A non-corrosive fluid should give a copper brazed plate heat exchanger a lifespan of 10 to 20 years.
A copper brazed plate heat exchanger is a 0.3 mm thick pressed stainless steel plate with a channel in the center. The plates are surrounded by a primary medium on one side and by a secondary medium on the other. The plates are connected by copper soldering along their perimeter. It's important to note that copper brazed plate heat exchangers are not compatible with liquids that contain ammonia or amine.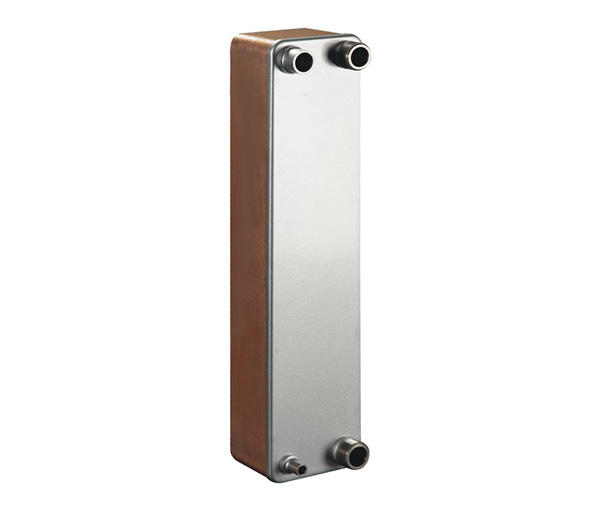 This type of heat exchanger has a relatively simple operating principle. It works by passing two fluids through a channel. The first fluid passes through one side of the heat exchanger, while the other fluid passes through another. The second fluid passes through a channel in between the two plates. A copper brazed plate heat exchanger has a high heat transfer coefficient. Copper brazed plate heat exchangers are also used in pressurized boiler systems and outdoor wood stoves.
The general advantages of a copper brazed plate heat exchanger include their low cost and compact structure. These products are also very efficient in transferring heat despite a small temperature difference. And, they also save energy. So, if you're in the market for a heat exchanger, it may be worth a try. They can be an effective and economical solution for your high-efficiency applications.
Another feature of this type of heat exchanger is its high thermal capacity. They can withstand extremely hot gases and can be used in many different heat recovery systems. Their unique plate designs ensure that most of the heat energy is filtered out. Copper brazed plate heat exchangers are available in several different sizes and materials. Choose one that's right for your application. If you're in the market for a heat exchanger, contact exodraft today!