A hydraulic oil cooler is a device used in hydraulic systems to protect the oil from overheating. Overheating can reduce system efficiency and cause excessive wear to system components. This device works by exposing the hot oil to a constant flow of low-temperature cooling medium. This cooling medium absorbs heat from the oil and carries it away, typically into the atmosphere.
Hydraulic oil coolers are used to control the temperature of hydraulic oil and to reduce its viscosity loss. High temperatures in hydraulic systems can lead to damage to the system and a decrease in efficiency. Therefore, hydraulic oil coolers are necessary to ensure that hydraulic devices function properly and safely. High temperatures in the oil also compromise lubrication and can cause cavitation and internal leakage. In addition, they can damage hydraulic components.
Hydraulic oil coolers are commonly installed in construction equipment. They can significantly reduce the operating temperature and increase the life of hydraulic systems. This equipment also improves engine performance by reducing viscosity loss.
Hydraulic oil coolers help to keep your hydraulic systems running at optimum efficiency by cooling the fluid to the optimal temperature. While hydraulic oil can withstand high temperatures, when it reaches the boiling point, it will lose much of its lubricating ability and can cause mechanical failure. Using a hydraulic oil cooler will ensure that your hydraulic system continues to work at optimal efficiency while also extending its lifetime.
Hydraulic oil is a high-pressure fluid used to transmit power through heavy machinery, and that means it is exposed to intense heat. If it is not properly regulated, it can clog the pump and cause damage to the machine, as well as endanger those working nearby. Many larger industrial machines include built-in hydraulic oil coolers to prevent overheating and fouling. However, some machines are not designed to accommodate a built-in hydraulic oil cooler, which is when an external hydraulic oil cooler comes in handy. This will extend the life of your equipment and decrease the amount of downtime your machine experiences.
Hydraulic oil is an important part of many hydraulic systems and is susceptible to high temperatures. This can cause the oil to deteriorate, form varnish on component surfaces, and damage rubber seals. It can also lead to costly repairs or mechanical failure. Keeping your hydraulic system at a recommended temperature range will increase the availability of your hydraulic system and lower maintenance and service costs.
Hydraulic oil coolers are crucial for hydraulic systems, as high temperatures can cause deterioration. High temperatures also damage hoses, seals, and orings. Using an oil cooler will reduce these temperatures, reduce internal leakage, and increase the lifespan of your hydraulic system. Investing in a suitable oil cooler will also reduce maintenance costs. Air-cooled oil coolers are common in mobile applications, but water-cooled oil coolers are often preferred in high-performance hydraulic systems.
Hydraulic oil coolers are used in hydraulic systems to cool oil and prevent it from becoming too hot. Overheating can cause damage to the system and degrade its overall efficiency. The hydraulic oil cooler is an essential part of a hydraulic system, placed in the line where the oil passes. This cooling component removes excess heat from the oil and maintains its viscosity, increasing the efficiency of the system. Market growth for hydraulic oil coolers is expected to continue to grow over the coming decade.
Hydraulic oil coolers are used in many different applications. Some examples of hydraulic oil coolers include water-cooled oil coolers, air-cooled oil coolers, and air-cooled oil coolers. They are manufactured by a number of different companies, including AccuRadia, Air Radiators, Apollo Group, Christy Engineering Solutions, and Fluid Dynamics Pty Ltd. Some companies specialize in hydraulic oil coolers for specific applications. They also offer a variety of maintenance services. These include installation, tilt bed truck & rigging, vacuum pump rebuilding, liquid pump repair, and ultrasonic leak surveys. Some companies also offer compressor kW metering and compressor condition surveys.
product name:
Hydraulic Oil Cooler FHC022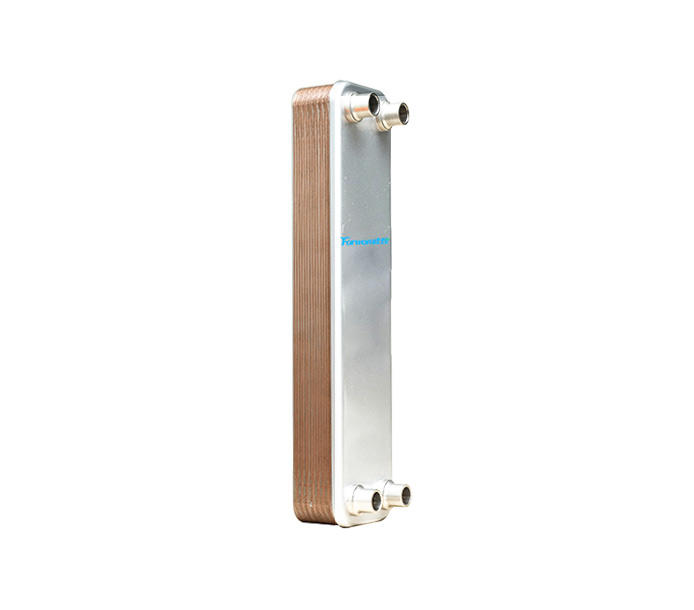 Product description:
Products are widely used in central air-conditioning unit evaporator and condenser, economizer, heat pump, district heating boiler, metallurgical chemical power industry heat recovery, cooler, cold and dry machines.
Design pressure(Mpa) 3.0 / 4.5
Testing pressure(Mpa) 4.5 / 6.75
Design temperature(℃) -196~200
Max connection size 3/4"
Plate Material SS304/SS316
Connection Material SS304
Brazing Material 99.9% pure copper/Steel
Connection type Threaded, Solder, Flange
Approval
CE, UL, PED, ISO9001, ISO14001
Packing
EPE foam,carton or polywood case
Mounting Bracket(Optional)
Studs, bracket, feet